Automatic Delivery Programs
Decatur Bowie Propane is here to make powering your home or business with propane simple. Built for complete customer convenience, we offer two automatic delivery options for customers within our service area.  When you sign up, you can rest assured that your fuel supply is in good hands. You'll receive fuel deliveries when you need them, save on propane costs, and gain peace of mind.
Total Convenience
Sign up for one of our automatic delivery programs to take the hassle out of ordering fuel for your home or business! We'll track your propane use and schedule deliveries when you need them.
ENROLL TODAY
Autofill Tank Monitor Program
This program uses a tank monitor to track your propane use. Our team will install the tank monitor for you, and use it to estimate when your tank is due for a refill. We won't just wait to schedule your delivery when your fuel level gets low, we will make a delivery based on daily prices and gallons needed to maximize your value and savings. You get 10 cents off per gallon when you sign up, plus additional savings.
Details explained below:
$60/year annual fee
Additional 10 cents off the posted daily propane price!
We automatically fill your tank when you're approximately 15-30% from empty
Additional per-gallon discount based on gallons used and maximum tank size is given based on your maximum delivery size:

100 gallons – additional 5 cent discount
150 gallons – additional 10 cent discount
250 gallons – additional 15 cent discount

Easy to use App that shows tank percentage till empty, daily average use, and other helpful info
*Small fee required for tank monitor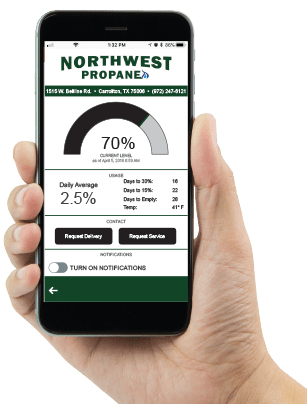 Have questions? Contact us online or call our office to find out which automatic delivery program is right for you!
© 2023 Decatur Propane, LLC Site by: Consumer Focus™